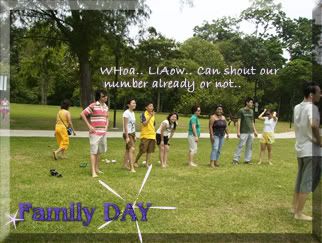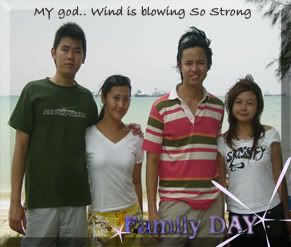 Pictures courtesy of Chiawling. I grabbed it from her blog. Hahaha... Opps, sorry...
I have a wonderful weekend!
Sat, we went to East Coast with mom and Dear. Meet my good colleagues there. Ramon, Chiawling, Boon Hong, Waty and many more. Somehow, thanx to the host of the day, I was saboed to be one of the team leaders to the telematches. I must really say we played very well!We played that catepillar chair game, memory game, tug of war and dog and bone. We won the first 2 games, came in 2nd for tug of war(we played against the logistic people, no way to win man... and they were all MEN! Sheesh...) but lost the dog and bone(all don't know how to play) Haha... Anyway, we were overall champions! Heee....
Mom had a good shoulder massage there, I was busy enjoying East Coast Park with Dear. And playing with my colleague dog. :D
After the whole event, we headed home to shower and head down to Suntec for Daddy's company event, family movie. Hahaha.. We watched Miami Vice. Was not a very fantastic movie. Didn't enjoy it much. Not recommended...
Evening, went for dinner with Sishi, Yan ying, Christon, Cuilin and boyfriend to celebrate YY's birthday. I don't have pictures for that yet. So will post it later when I have it. ;)