I am doing this entry using my dearest group mate's laptop. She is such a dear to lend me for a week to complete the programming. And happy to announce that my project is unofficially over! Yes! My dreaded project is over. Why unofficial? Because my client has sign off the project. And after he sign off, I have to reprogram the system so that the client can officially launch it. And call me nuts, I have been playing with programming these days when I'm bored! Can you believe it? AH! BLEAH... It's like... a hobby! GEES...
Introducing my wonderful group members.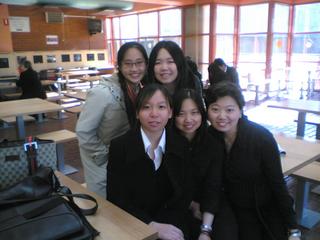 Top: Me, Lauren
Sitting: Huifen, Liza and Yin Chin(Janice)
Love you all!!!
Anyway, do feel free to look at the website. The official website is
http://www.spyclub.com.au
but it's not launch yet.
But you can take a look at it at
http://d34575.u26.bottle.com.au/
Oh well, I don't really like this picture because I look like a geek. haa!! But that's the only picture we have together. Oh well. :P GIRLS POWER! :D
You won't be hearing from me for quite sometime. My computer is crashed and I won't have anymore computer to use. So... take care and miss me! I might go to uni to use the computer. (As if I'm so hard working to walk over to use. hehehe...) I will be studying! Call me if you have my aussie number or SMS my SG mobile! ;)